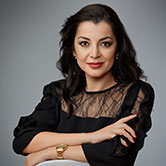 VESNA SIMIC
Founder and managing director
---

Who I am today?
I am an enthusiastic entrepreneur, free spirit and business lover. In one sentence, my motto is: life is what you do. And I live my business.
Who I was yesterday?
Marketing director at one of the largest media groups in South East Europe: Ringier Axel Springer. Head of marketing at one of the biggest TV shows productions in the Balkans: "Emotion".
A political reporter that has interviewed the most important political figures in South East Europe: presidents, prime ministers and members of parliaments. A journalist for independent newspapers and TV stations that fought against the Milosevic regime in Serbia in the 1990s. Chief of the foreign correspondents office in Serbia for Public service TV of Bosnia and Herzegovina, as well as TV reporter and host at BK TV and VIN TV. Author of three documentaries. Many of my TV stories are still remembered.
Media coach for members of Serbian Government and Parliament.
I hold an MBA degree from the University of Sheffield.
What was my mission?
"My mission as a journalist was to bring a better future to my country and influence people in the ex-Yugoslavia region to prevent extremism. If I ever made a contribution to this, my journalism career made sense."
What is my mission today?
My mission as an entrepreneur is to create an outstanding production company that provides high quality services to our clients and excellent satisfaction at the best value for money.
What I wanted and what I still want to do?
To make a difference.